1.2020 Republic Day chief guest will be Brazilian President Jair Bolsonaro
During the 11th BRICS Summit, Prime Minister Modi invited Bolsonaro to be his main guest on Republic Day 2020, and Bolsonaro was pleased to accept the invitation.

2.January 26, 2020 is India's 71st Republic Day
As everyone knows, after India gained independence on August 15, 1947, there is still no permanent constitution, so on August 28, 1947, a drafting committee was appointed to draft the permanent constitution, with Dr BR Ambedkar as chairman. On November 26, 1949, the Indian Constitutional Assembly formally adopted the Indian Constitution. The Constitution entered into force on January 26, 1950, so 2020 will be India's 71st Republic Day.
3.Why celebrate Republic Day?
Because on the day India 's Constitution comes into effect, India 's sovereignty, socialism, secularity, democratic republic is declared to ensure that our Indian citizens enjoy justice, equality and freedom, and strive to promote fraternity. The original Constitution of 1950 is kept in a helium filling box at the New Delhi Parliament House. During an emergency, the words "secular" and "socialist" were added to the preamble in 1976.
4.Republic Day Parade Celebration-What's special this year?
(Republic Day Parade - 2019 - From Youtube)
The Republic Day Parade, held annually on January 26, starts at Rajpath and ends at Red Fort in Delhi. The armed forces pay tribute to Indian freedom fighters and prominent figures under the auspices of the President and Prime Minister of India. The parade is another important part of the celebration of Republic Day in New Delhi. The National Youth League (NCC) and selected Boy Scout boys were part of the event. The parade will be followed by regional dances, patriotic songs and military bike performances.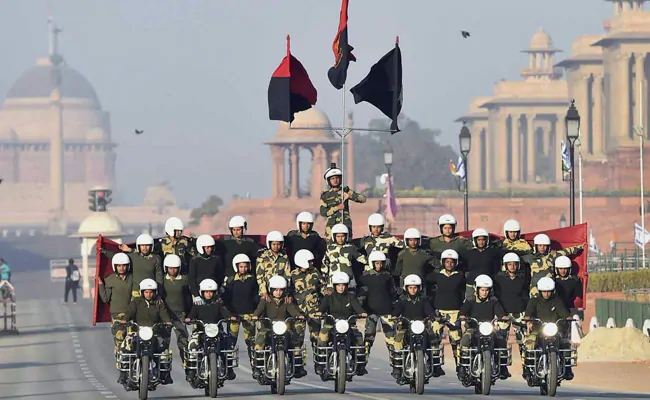 This year, the Department of Defense selected 22 of the 56 proposals for the Republican March. The National Disaster Relief Force (NDRF) will see it in pictures of disasters, such as hurricanes and floods during which it described humanitarian efforts, and rolled off Kings Avenue for the first time on this Republic Day parade. The unit was established in 2006 to specialize in relief and rescue missions in the event of natural and man-made disasters or similar life-threatening situations.
This will be the first time that a female officer has seen the "Army March". Tania Shergill is India's fourth-generation army officer and joined the armed forces in 2017 after graduating from Chennai's Officer Training Academy. Captain Tania Shergill will be the first female parade assistant in this year's parade.
The Air Force's new Apache attack and Chinook heavy helicopter will fly for the first time.
5.How do I buy tickets for the 2020 Republic Day Parade?
The ticket for the Republic Day Parade 2020 Sale and Assault Retreat (Full Rehearsal) starts on January 7, 2020.
| | |
| --- | --- |
| event | ticket price |
| Republic day parade | Rs.500,Rs.100,Rs.20 |
| Beating Retreat (Full Color Rehearsal) | Rs.50 & Rs.20 |
The ticket counters are located as follows:
North Street Roundabout
Sena Bhavan (gate 2)
Pragati Maidan (gate 1)
Jantar Mantar (front entrance)
Jamnagar House (opposite India Gate)
Shastri Bhavan (near gate 3)
Red Fort (in the park on August 15, opposite the temple of Najiao)
Houses of Parliament (Reception)
From January 7, 2020 to January 25, 2020, tickets will be sold at the above locations from 10 am to 12.30 pm and 2 pm to 4.30 pm. From January 23 to January 25, 2020, a ticket counter in Sena Bhavan will be open until 7pm. Thanks to a full costume rehearsal, all ticket counters will only open in the afternoon on January 23, 2020.
Note: Due to the Republic Day parade, all ticket counters will be closed on January 26, 2020.